Pregnancy Chiropractic at Port City Chiropractic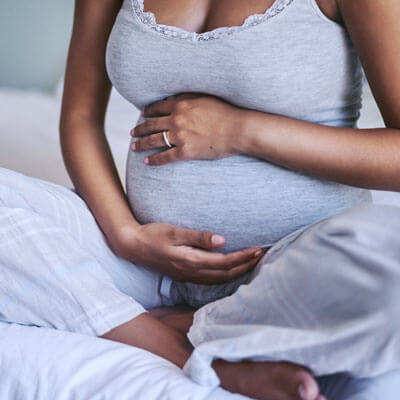 Awaiting the arrival of a new baby is one of the most special times in a woman's life. Ensuring her body is as healthy as possible is extremely important. Not just for her, but for the baby too!
Why Do I Need Chiropractic?
Your body is going through a lot of changes. The strain on your joints and muscles, balance issues, and pressure from an enlarged abdomen during pregnancy are substantial. Pain and discomfort, especially in the third trimester, are common.
Your center of gravity also shifts as the baby grows and gets heavier. Relaxin, the main pregnancy hormone, relaxes ligaments to give your baby more space and room to grow. Unfortunately, it can also make ligaments too lax, allowing the joints to shift out of alignment.
Making adjustments to the pelvis can relieve some of the discomfort that accompanies pregnancy. Better pelvis and spine movement makes the labor and birth process shorter and less painful.
At Port City Chiropractic, we assess the whole body, not just the pelvis, so your experience is as pain-free and enjoyable as possible.
Chiropractic adjustments ensure everything is properly aligned and functioning.
Before your consultation, we ask you to complete a pregnancy questionnaire. Our goal is to help you have an overall great experience, not just come in, get adjusted, and go home. Pregnancy is a journey; we're here to support you every step of the way.
When you come into the exam room, your chiropractor will discuss the questionnaire, your current pregnancy, and any previous ones. It's important to obtain a full health history, including any complications or injuries, anything that might impact your care. He'll also ask about your birth plan, your birth support team, and if you have a doula or midwife.
Next, you'll receive an exam to assess your physical condition. This may include range of motion tests, spinal palpation, checking ligaments, pubic bones, etc. Once the doctor finishes his exam, you'll receive your first treatment.
Our ICPA (International Chiropractic Pediatric Association) certified chiropractor is trained in the Webster Technique, specifically designed for pregnant women. This method allows us to determine if there are problems with the sacrum, pubic symphysis, psoas muscle and pelvic ligaments, and ensure everything is properly aligned.
Webster helps resolve breech presentations, so the baby can get into the proper birth position, helping prevent C-sections and other complications. Our moms find chiropractic care provides an easier labor, faster birth, and safer experience for both the mother and her baby. It's a gentler, conservative approach, so there's no pain.
Here are some ways our natural care assists pregnant patients:
Helps maintain good health throughout the pregnancy
Helps control morning sickness
Relieves back, neck and joint pain from carrying around the extra weight of the baby
Gives the baby space to move into the optimal birthing position
Labor and birth are quicker and less painful. When a mom's body is in balance, joints and ligaments are relaxed.
Faster postpartum recovery from the changes in your pelvis
Frequently Asked Questions
Is chiropractic care safe during pregnancy?
Yes, it's completely safe and effective. Our chiropractor is trained in the Webster Technique, a specialized form of care for pregnant women. Chiropractic care helps alleviate pain related to pregnancy, and also prepares the body for a less stressful birth. All our patients can expect care that is safe and appropriate for their condition.
How far along in my pregnancy should I seek chiropractic care?
The earlier you prepare your body for pregnancy, the better, so there's no limit to how early you can start receiving chiropractic care. But this form of care can benefit even those women who start as late as 39 weeks along.
How soon after birth should I come in for care?
You can come in as soon as you feel comfortable, even a few days after giving birth. The sooner, the better, because your pelvis will be in a different shape.
Quality Care for You and Your Baby
Contact our office to schedule your visit. Experience the difference quality care can make for you and your baby.
CONTACT US »

Pregnancy Chiropractic Portsmouth, Dover, Kittery, Durham NH | (603) 433-2447